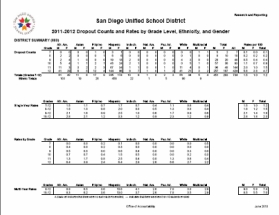 Click for larger view of this sample page.
Dropouts
These reports present district and school dropout data. Analyses address dropout status by grade level, race/ethnicity, gender, economic disadvantage, and English language proficiency.
Background
San Diego Unified reports dropout data to the California Department of Education (CDE) through the annual data submission process. The CDE defines a dropout as any student in grades 7-12 who:
left school before graduation or attainment of the legal equivalent (passed the General Educational Development [GED] examination or the California High School Proficiency Examination [CHSPE] or received an adult education diploma) and
did not return to a school or an educational program by the first Wednesday in October (i.e., Census Day) of the following school year.
Although this general definition has applied for many years, it is important to note that in recent years there have been significant changes in a) dropout working definitions, b) reporting methods, c) additional steps taken to follow up on dropouts, and d) the ability to search for students in the state's database. These changes must be considered when reviewing recent dropout rates and rates over time.

Select a report from one of the years below.