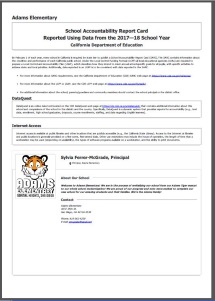 School Accountability Report Cards - 2020
State law requires public schools throughout California to provide information to parents and the community in the form of an annual School Accountability Report Card (SARC). These report cards allow the public to evaluate and compare schools regarding:
School Description and Mission
Demographic, Academic, Fiscal, and Expenditure Data
School safety and Facilities
Class Size
Teacher and Staff information
Curriculum and Instruction
SARCs follow the state guidelines and document template and are issued each spring and focus on the previous academic year.

The district is now utilizing the state's SARC Webportal dashboard. Features of this new SARC format include:
View Page-by-page information: A school's SARC is divided into separate sections (it cannot be viewed on one page alone). To view sections, click on one of the five icons in the left-hand navigation menu.
Create a PDF: Each school's SARC provides a link to create an English language PDF. The user may choose to print the entire SARC or just selected sections.
Instant Google Translations: Users may now instantly translate the SARC document into another language using Google Translate.
SARCs Published in 2020 for the 2018-19 School Year
2020 SARCs in Translation
Click here for instructions on how to obtain a translated version of the SARC.
To view SARCs from a different year, click on the year value below.
2020
2019
2018
2017
2016
2015
2014
2013
2012
2011
2010
2009
2008
2007
2006
2005
2004
2003
2002
2001
2000
1999
1998
1997
1996
1995
1994
1993
1992
1991