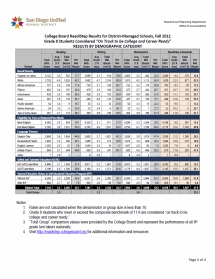 ReadiStep™
ReadiStep™ is a test designed for middle school students, primarily Grade 8. It is the first assessment in the College Board's series of college readiness assessments that includes the PSAT/NMSQT (Grades 10 and 11) and the SAT (Grades 11 and 12). In fall 2012, Grade 8 students at district-managed schools took the test.
Click here for district results.
Per the College Board ReadiStep™ website:
ReadiStep™ is an assessment that measures reading, writing, and mathematics skills that "students need for success in high school."
It is a pencil and paper test taken in October that lasts approximately two hours; 40 minutes for each section.
Scores are reported on a 1.0 to 7.0 scale with 0.1 increments for Critical Reading, Writing Skills, and Mathematics
Critical Reading
45 questions
Writing Skills
50 questions
Mathematics
36 questions
Sentence Completion
Passage-Based Reading
Improving Sentences
Identifying Sentence Errors
Improving Paragraphs
18 calculator questions
18 non-calculator questions
The assessment includes a College and Career Readiness Benchmark for Grade 8 students. Students whose composite scores are at least 11.8 points (maximum of 21 points) are considered "on track to be college ready."